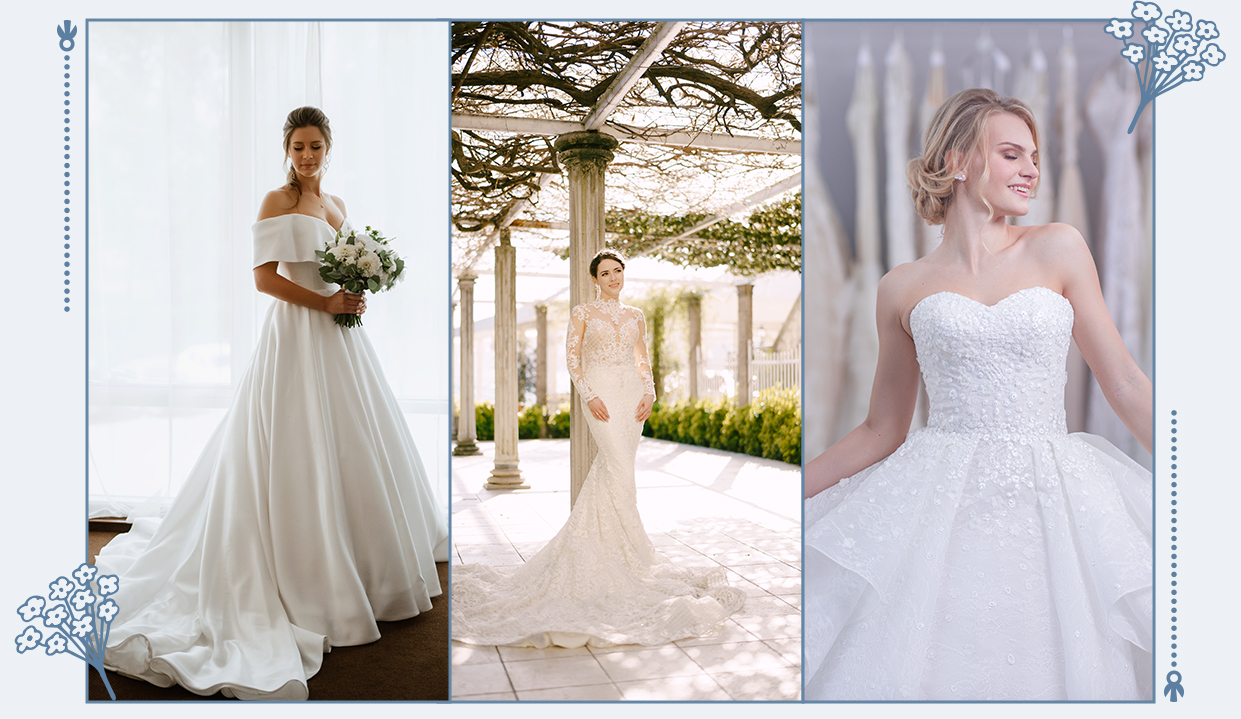 1. Choose Your Style
Ballgown
A form-fitting bodice with a natural waistline that flares out dramatically into a very full skirt
A-Line
Fitted through your natural waist before flaring out softly
Column A
Streamlined silhouette with a slim profile; usually constructed from a more structured material
Empire
Features a high seam just under the bust with a skirt that flows to the floor, allowing for plenty of movement
Fit And Flare
Hugs your bust, waist, and hips, then flares out ever-so-slightly for a pretty, romantic look
High/Low
Reminiscent of midcentury couture, this asymmetrical style is shorter in the front-generally hitting mid-calf-and longer in the back
Mermaid
A sultry, curve-hugging style that's fitted through the bust, waist, and hips before dramatically flaring out at the knee
Sheath
Simple, slim silhouette that hugs the body and falls straight to the floor; similar to a column shape but usually made from silkier fabrics that glide over the contours of the body
Tea Length
This shorter hemline, which can fall anywhere between your knees and your ankles
Trumpet
Fitted through the bust, waist, and hips, and flares out in a manner similar to its titular horn, but with a bit more restraint than a mermaid style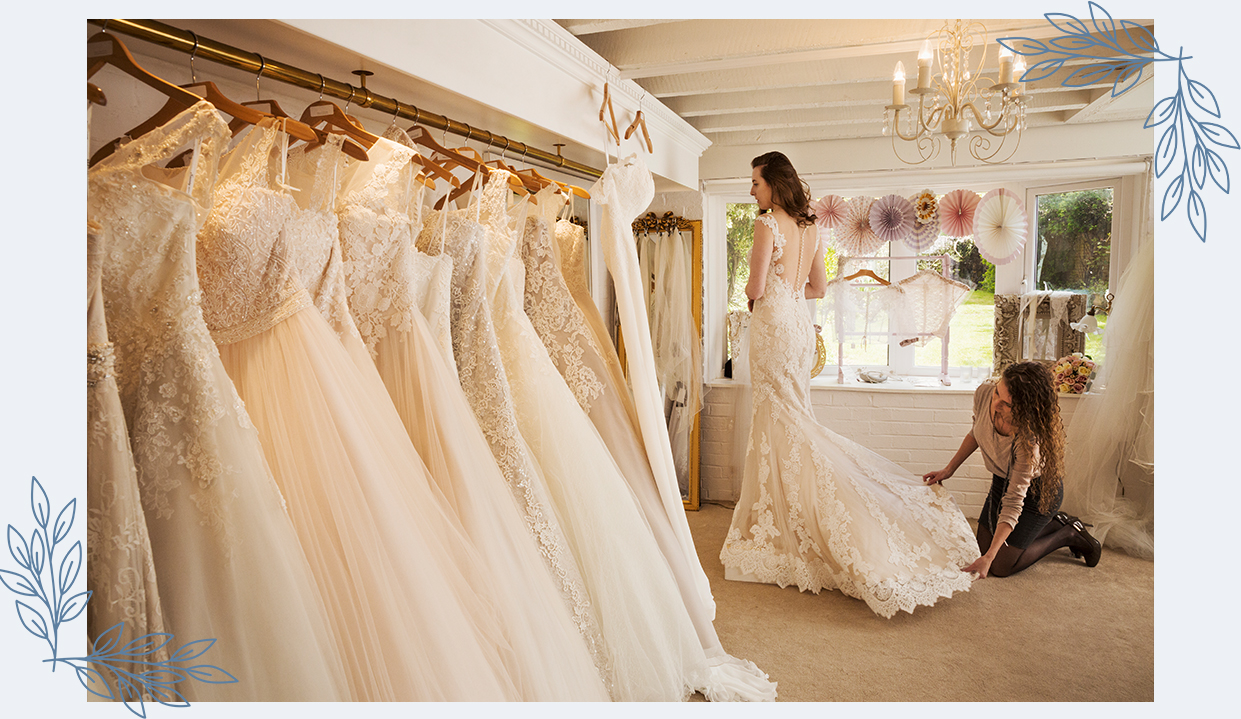 2.  Avoid Busy Shopping Times
Shopping during off-hours is a beneficial way to shop when looking for your wedding gown for several reasons. Saturday afternoons are the most popular times to look for a wedding dress, which makes that a day to avoid. The busiest times are the weekends because most families can come together with the bride during those times where not many work.  If you can, try and consider shopping on a Tuesday or Wednesday morning when salons are likely to be less crowded, this way you can be more accommodated to. A calm store means a more personalized experience, and more attention directed on the bride.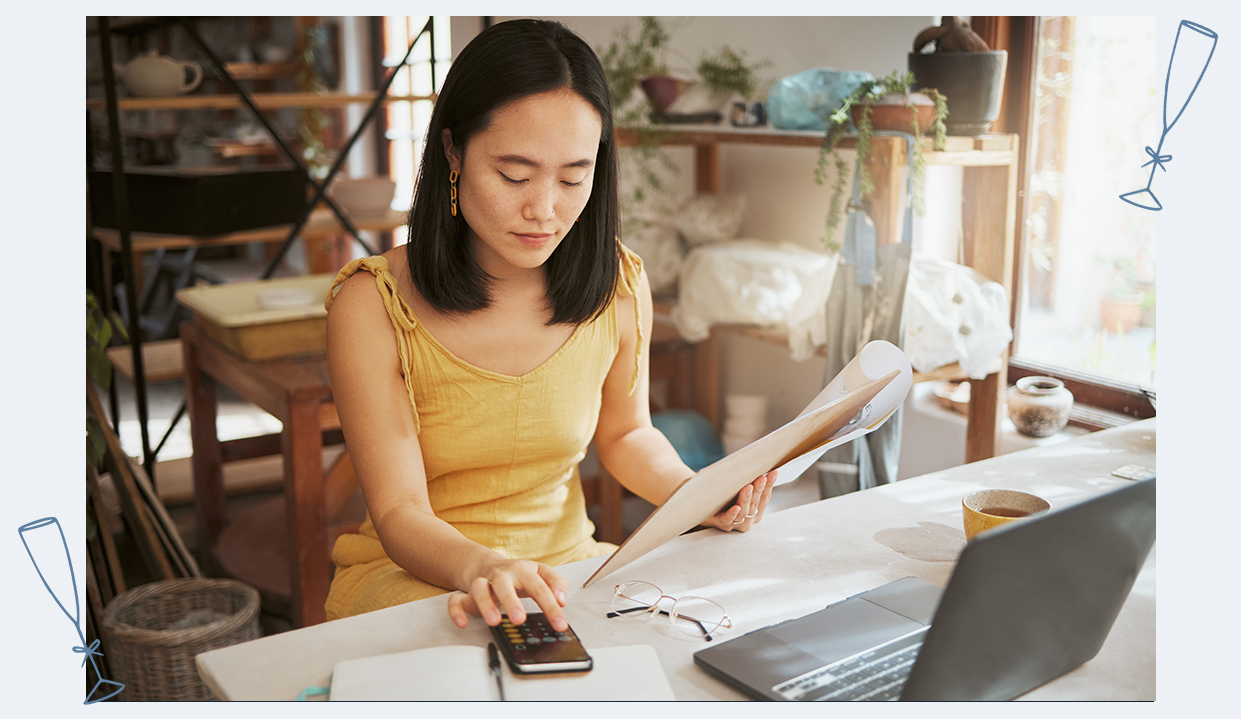 3. Stay In Your Budget
Have a price in mind when looking for your wedding dress!! Try not to waste time trying on gowns that are so high in cost, if that is not something in the works of your wedding budget. When initially going in to the dress shop, have an estimated idea on how much you're willing to spend and be upfront about it when you visit a store. As a side note, the cost of alterations, as well as accessories is still something to add into your wedding dress budget!!