Buying versus renting your wedding attire can make all the difference when determining the timeline in which you decide to order your items. Shopping for a tuxedo versus a suit can also be decided by factoring in the type of wedding you are hosting.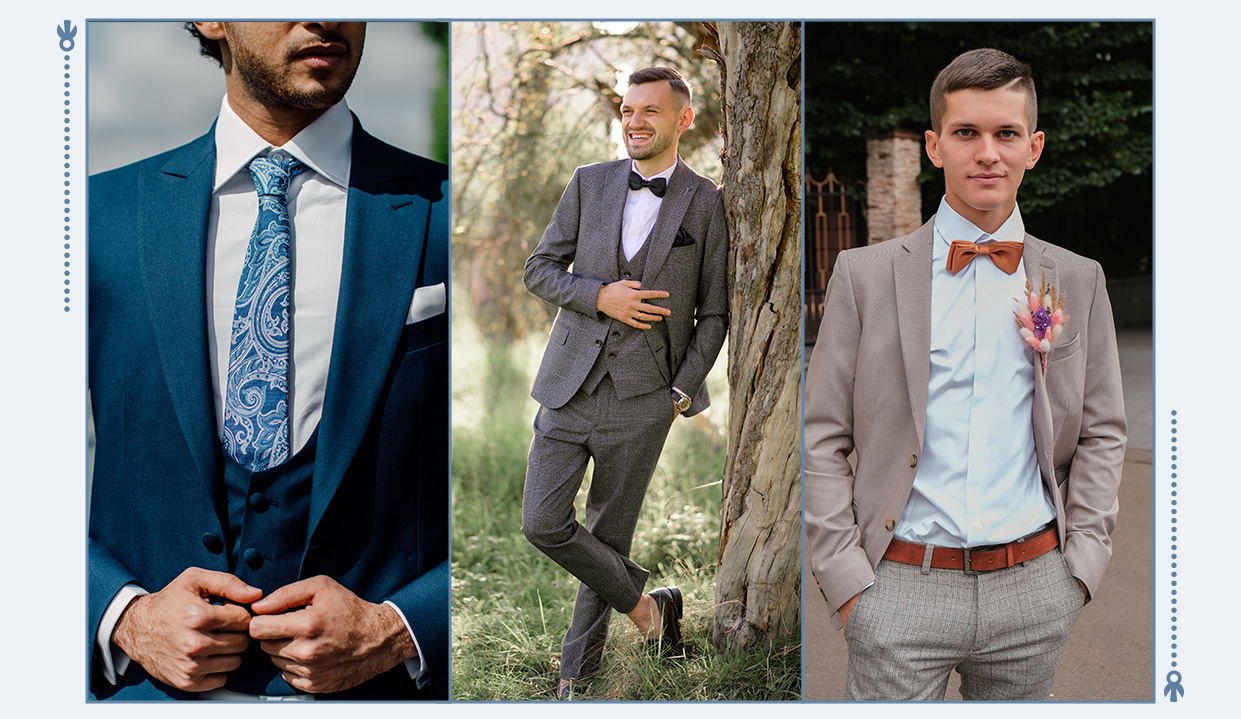 Tuxedos vs. Suits
Depending on the time of day, tuxedos suit evening functions better, and suits can be worn during a 12-5 party. If you are having a daytime/ afternoon wedding, a suit will be more appropriate. But, if you are more comfortable wearing "fancier attire", you are more than welcome to dress more formally and add extra accessories. For a black-tie wedding, the groom should wear a tuxedo to stand out. But if your event is more casual, you may want a suit. You also want to consider what your partner is wearing so that the formality of both of your ensembles is in sync. You may also have a personal preference. All that really matters is that you're wearing something you like that fits well, is comfortable to move around in, and is consistent with the tone of your day!
Tuxedo Jackets
A classic jacket is the most common. It can be single-breasted or double-breasted (where the flaps overlap).
Tailcoats
A tailcoat, also known as a full-dress coat, is a ultra-formal style that is cropped in the front, with two tails in the back and a two- to six-button front placket.
Tuxedo Shirts
A spread collar resembles a standard button-front shirt but with collar points that angle outward instead of down; works well with a Euro tie or a standard necktie finished with a Windsor knot. A Euro tie is a hybrid between an ascot and a regular, run-of-the-mill necktie.
Wing Collars
A wing collar is the most formal choice and the collar style most often worn with tuxedo jackets, this standup collar has downward points.

Accessories
Cufflinks
Cufflinks come in all shapes, materials (leather, glass, stone), and colors. This adds a creative touch and personality to your ensemble. Cuff links are added on to a tuxedo shirt to secure the cuffs.
Cummerbund
A cummberbund is a pleated swatch of fabric worn around the waist when you are not wearing a vest.
Suspenders
Suspenders are worn in lieu of a belt to hold the pants hitched up. They also add a touch of elegance and dimension to the outfit.
Vest
A vest is best for a formal wedding and gets paired with a tie if desired for that look.
Tie Bar
Tie bars are used to fasten a tie to the placket of a shirt which sits between the third and fourth button on the shirt.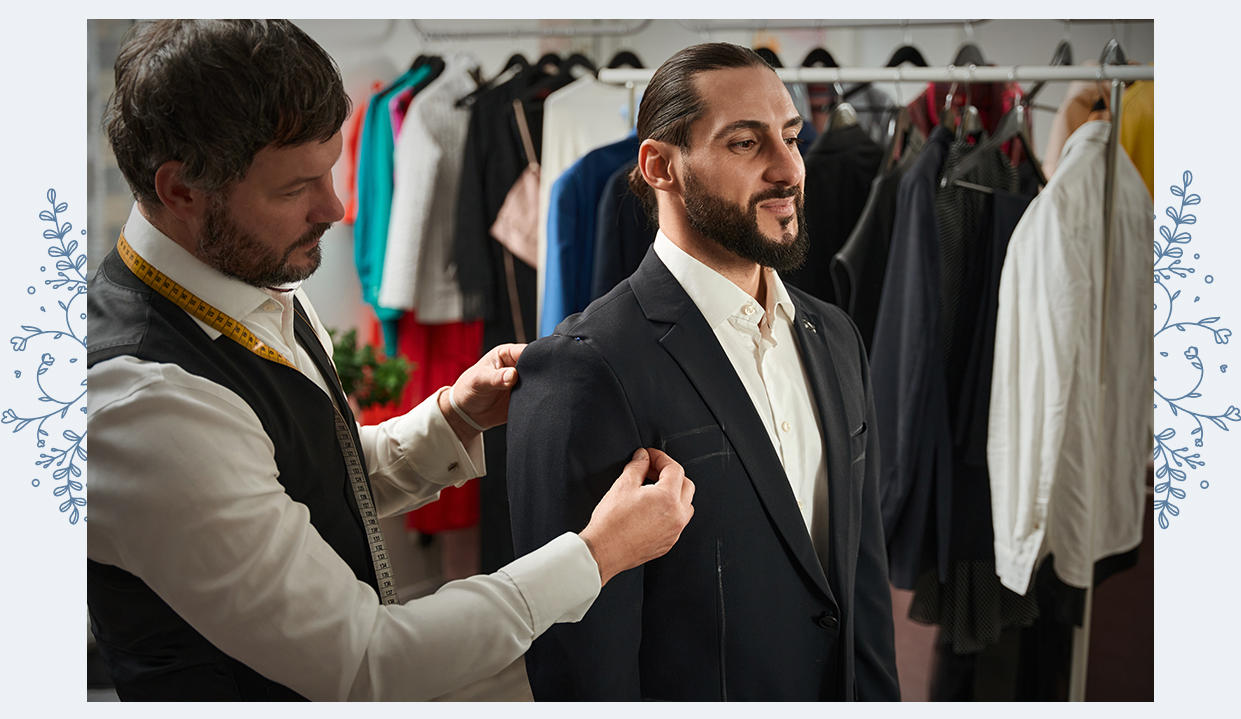 Shopping Timeline
If you're renting your outfit for your very special day, you should give yourself around a full month to order. This will ensure you a wider selection of options and sizes to choose from. If you're sending your groomsmen to a rental shop, have them place their orders at least 30 days in advance. If you're buying off-rack, you should plan on shopping for your suit about two months before the wedding. The reason being is because you may need a few alterations and fittings that need to be accommodated to in the proper time frame. Waltzing into a store and leaving that same day with a suit is not always the case