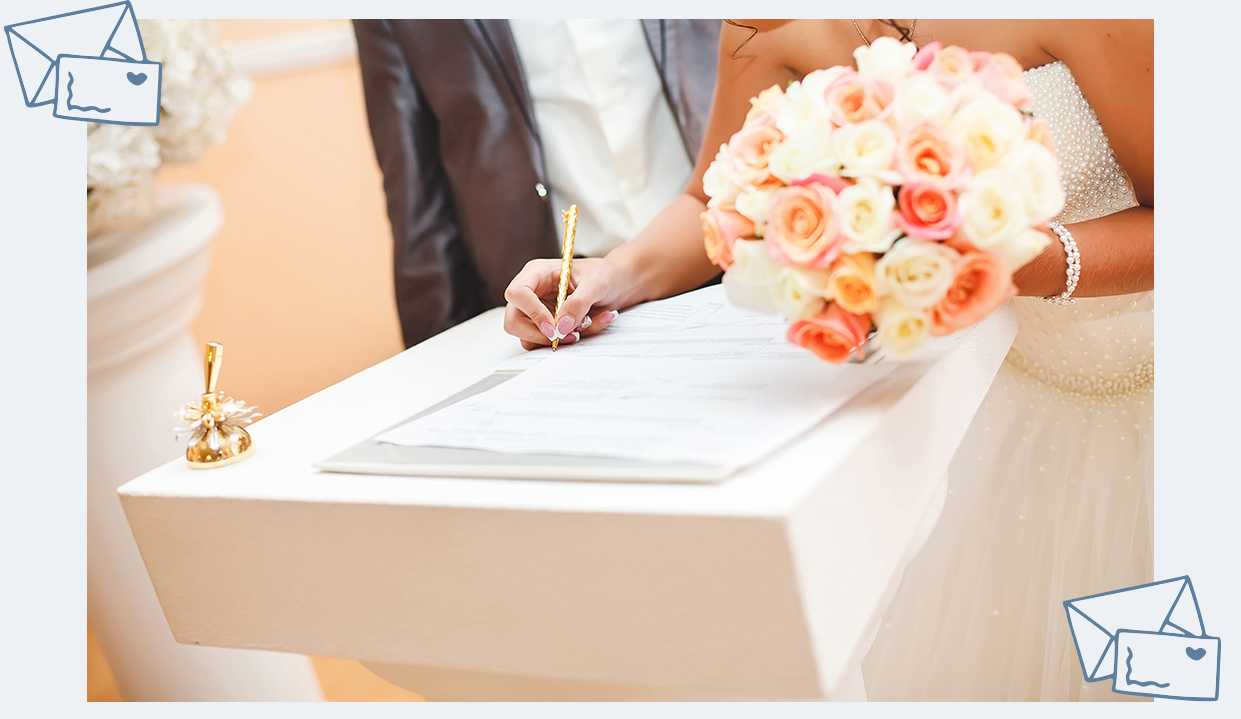 Securing Your Marriage License
Step One
Search online for the marriage license bureau in the city/town where you're getting married.
Step Two
Call the marriage license bureau and ask the best time of day to come.
Step Three
Find out when you should apply (usually within a few weeks of the wedding).
Step Four
Confirm what you need to bring with you such as birth certificates, proof of citizenship, driver's license or passport (or another government-issued ID).

Your Ceremony Style
Choosing the right officiant to marry you and your significant other is very important because the person that marries you not only must be qualified but must be trusted. You want to be comfortable with the person who is leading your vows is a wonderful way, which also personalizes your day more.
Religious Ceremony
A religious ceremony requires an officiant skilled, consisting of the following practiced officiants; a priest, rabbi, imam, etc. Other religious officiants are acceptable if they are your go-to individual, if you both of you belong to a particular religious organization or would like to be married in a house of worship.
Officiants
A celebrant officiant is someone who performs either religious or secular ceremonies for marriage. A celebrant can be an ordained clergy member, professional secular officiant, or legal official, such as a judge.
A secular officiant is a certified and non-religious individual. A celebrant has training and certification from a secular organization. The more secular the officiant, the more creative license you'll likely have over what is said, read, sung, or played during the ceremony.
A civil officiant's primary role is to legalize the marriage. They are responsible for witnessing and validating the consent of marriage between you and your partner for the wedding license and are legally registered with the local city clerk's office. Hiring a civil officiant is most similar to hiring any of your other pros, because they will give a price or quote that's standard for their services.
Ordained Family/Friend
Lastly, you may even want to have your friend or family member be ordained to marry you and your partner. This process to have this individual certified is relatively easy and fast. They can get ordained online. Just remember that ordination requirements differ from state to state, so do your research first.

Cultural Customs:
Chuppah
In the Jewish religion, the four posts of a chuppah are often held up by friends or family members throughout the ceremony as a symbol of support for the couple's new life together. Since there are no formal requirements for its size, shape, or appearance, you can use The Jericho Terrace arch provided to you (if getting married on site).
Handfasting
An ancient Celtic tradition, the couple holds opposite hands (as if pausing mid-handshake) while their officiant binds them together with ribbon, cord, or other fabric.
Jumping The Broom
This custom involves laying a broom on the ground and the couple jumping over it to represent a new start (like sweeping past experiences under a rug) and their commitment to their new future.
Sand Ceremony
Both partners pour sand into a single vessel, symbolizing their lifelong commitment and the joining of their two lives. Sometimes parents are included as well, to symbolize the blending of families.
Sign Of Peace
At Catholic weddings, the priest will invite the wedding party and all guests to share a sign of peace-typically a handshake or hug-with those standing nearest to them. This is accompanied by the phrase, "peace be with you."
Unity Candle
After the vows and ring exchange, the newlyweds each take a lit candle to light a third, larger "unity" candle. Parents may also join in the fun (with fire) and light a candle to represent the combining of the couple's families.
CHECK OUT
 

THEKNOT.COM

 

FOR MORE INFORMATION.